2007




14 December 2007, Bremen
GAMA: Gateway to Archives of Media Art
A central online portal to Media Art in Europe

GAMA project official kick-off meeting with the EU's Project Officer, Bremen

more information »»





8-16 December 2007, Budapest, Centrális Galéria
<19 Freestyle Computing Competition Exhibition
The 18 honoured artworks of the <19 Freestyle Computing Competition are presented in an exhibition. more information »»





7 December 2007, Budapest, Centrális Galéria
<19 Freestyle Computing Competition, Awarding Ceremony

Date: 7 December 2007, 4 p.m.
Location: Centrális Galéria Opening speech: Ferenc Pohly, chairman of the jury.
Welcome speech: Miklós Peternak
more information »»





5-6 November 2007, Brussels
GAMA: Gateway to Archives of Media Art
A central online portal to Media Art in Europe

C3 is partner in the two-years European project - GAMA, that aims to establish a professionally coordinated central online access to Europe's most important digital archives and libraries on media art.
First project meeting, Brussels

more information »»





Budapest, October 11-13, 2007, Hungarian Academy of Fine Arts
The Time of an Artwork / The Artwork through Time
International Symposium within the V[ R ]M Project

Friday, October 12, 10:00-17:00,
Hungarian Academy of Fine Arts (Andrássy út 69-71, Budapest 1062), Screening Room




12. October - 25 November, 2007., Labor
Labor
Collaboration between the C3 Foundation, the Young Artists' Studio, and the Hungarian Academy of Fine Arts
Képíró u. 6, Budapest 1053

Opening Exhibition : The Time of an Artwork / The Artwork through Time
Miklós Erdély: Moral Algebra. Solidarity Action (1972, reconstruction)
György Jovánovics: Construction Pressing into the Ceiling (1971)
Little Warsaw: Re-enactment (2005) - a documentation of the performance
Opening: Thursday, October 11, 19:00
with the participation of Zsolt Keserue (President, FKSE – SYA Association), Frigyes Kőnig (Rector, MKE ), Miklós Peternák (Director, C3)
The exhibition remains on view until 25 November 2007




31 May 2007
<19 Freestyle Computing Competition
The publication of <19 Freestyle Computing Competition

more information »»





24. March - 28 May, 2007 - Műcsarnok | Kunsthalle, Budapest
KEMPELEN
Media Art and History Exhibition
organised by C3 Foundation

Curator: József Mélyi
Co-curator: Rita Kálmán
Scientific advisors: Brigitte Felderer, Miklós Peternák, Ernst Strouhal
Technical director: Márton Fernezelyi
Design: Gábor Palotai Design

Opening: Friday, March 23, 2007, 7 pm
at Műcsarnok | Kunsthalle, Budapest




Műcsarnok | Kunsthalle, Budapest, 17 May 2007, 6:30 p.m. / Merlin, 18 May 2007, 12:00 p.m.
PIPS:lab - Elderly Gate number 9 (or 5) (vagy 5)

PIPS:lab
Elderly Gate number 9 (or 5)
17 May 2007, 6:30 p.m.
Műcsarnok | Kunsthalle, Budapest
18 May 2007, 12:00 p.m.
Merlin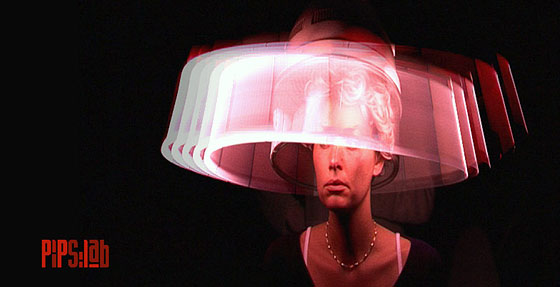 Pips:lab returns to Budapest to give an impression of what could Wolfgang von Kempelen have done with a laptop. Every element of the show is produced live, rhythm, sound, lumasol, animations, and immediately chopped up – remixed and pasted into their audio-visual inventory. Music varies from jazz and heavy metal up to songs for children. They have a great impulse to be creative and innovative. Getting the audience involved is a must, but it is also important to know that they have recently started filling up their virtual immortal space using their latest mind uploader invention.
Nowadays PIPS:lab consists of 7 members:
Keez Duyves (artist/inventor),
Stije Hallema (musician),
Steven van Hulle (Rednose Distrikt DJ / producer),
Bas Vos (camera),
Daan van West (composer),
Thijs de Wit (actor),
Marieke Zigmans (manager).
Goal of this collaboration is to create new art forms out of interdisciplinary combinations. The final product has many shapes. It could be a concert, theatre play, an interactive installation or something completely different.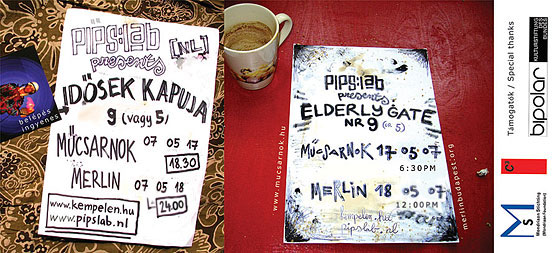 Web:
http://pipslab.nl
http://myspace.com/pipslab
http://kempelen.hu